20. Lotta Lehtera
St Lous Blues winger Jori Lehtera has hit the jackpot not once, but twice. First by landing a sweet spot alongside Vladimir Tarasenko on the Blues' top scoring line and second by sealing the deal with Finnish model Lotta Janne.
19. Taylor Winnik
Like most women on this list Taylor Winnik's Instagram page is definitely worth a browse. But in her case the stunning beauty on display goes beyond superficialities. The wife of Washington Capitals forward Daniel Winnik is an accomplished professional photographer and uses social media to showcase her work.
18. Angela Price
Angela Price, wife of Montreal Canadiens goaltender Carey Price, is a self proclaimed Lifestyle Blogger and an absolute stunner.
17. Katrina Marchand

Boston Bruins uber-pest Brad Marchand is famous for combining 1st line skill with 4th line grit. It's unclear whether he relied on skill or grit to land his wife Katrina Marchand, but it's hard to argue with the results.
16. Cristine Prosperi

The 25 year-old Canadian actress is probably best known for playing Imogen Moreno on the teen drama Degrassi, but she also happens to be the girlfriend of Carolina Hurricanes star Jeff Skinner.
15. Melanie Collins

Golf fans might recognize Melanie Collins as the host of Big Break and Driver vs Driver on the Golf Channel, but she's also the girlfriend of Nashville Predators sniper James Neal.
14. Lucia Slaninkova

Hands up if your childhood dream was to play in the NHL or date a Miss World pageant contestant. Well, if you're Tomas Tatar of the Detroit Red Wings you're covered as he's dating Slovak model and Miss Earth Slovak Republic Lucia Slaninkova.
13. Caroline Lunny

Florida Panthers forward Reilly Smith is a sneaky, under the radar player so it stands to reason then that his girlfriend would be a sneaky, under the radar beauty.
12. Elina Casell Hjalmarsson

Chicago Blackhawks defensive defenseman Niklas Hjalmarsson, known as Hammer, has hit the nail on the head with his wife Elina Casell Hjalmarsson.
11. Anastasia Shubskaya

Ever seen Beauty and the Beast? No? Skip it and check out the Instagram page for Anastasia Shubskaya, wife of Washington Capitals captain Alex Ovechkin instead.
10. Emma Andersson

Detroit Red Wings captain Henrik Zetterberg might be having a tough-go of things in Hockeytown these days, but at least he gets to go home to Swedish TV personality Emma Andersson each day.
9. Julianne Hough
Former Washington Capitals grinder Brooks Laich may not have much of a future in the NHL, but at least he's hitched his ride to Dancing with the Stars champ Julianne Hough.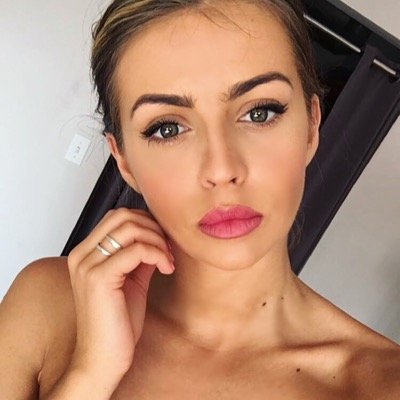 8. Lucie Vondrackova
It must be tough being Tomas Plekanec. Not only can he not get any respect from the Montreal Canadiens media, but he also has to live in the shadow of his wife, Czech singing sensation Lucie Vondrackova.
7. Kathy Leutner
Pittsburgh Penguins superstar Sidney Crosby has been extremely tight-lipped about his personal life since entering the NHL, but reports have linked him to fitness model Kathy Leutner going back to 2008.
6. Lauren Oshie
Sniper TJ Oshie has lit up NHL goalies with the St Louis Blues and Washington Capitals for awhile now. But he can't hold a candle to the fire on his wife's Instagram page.
5. Noureen DeWulf
Vancouver Canucks goaltender Ryan Miller is one lucky man. The veteran netminder has been married to Hollywood acrtress Noureen DeWulf since 2011.
4. Sydney Esiason
Daughter of NFL legend Boom Esiason, Sydney has been dating Toronto Maple Leafs enforcer Matt Martin since his days with the New York Islanders. Not bad, Mr. Martin.
3. Elisha Cuthbert
Ottawa Senators defenseman Dion Phaneuf better watch his back around Jack Bauer. Phaneuf's wife, actress Elisha Cuthbert, plays Kim Bauer on television's 24 and she also happens to be a total smoke show.
2. Carrie Underwood
No surprise here, right? The Grammy Award winning singer is the wife of Nashville Predators captain Mike Fisher and an absolute classic blonde bombshell.
1. Lindsey Vecchione
Chicago Blackhawks superstar Jonathan Toews has experienced the thrill of a lifetime and we're not talking about winning the Stanley Cup. The three time Cup winner has been dating Playboy model Lindsey Vecchione since 2013.